In celebration of the eagerly awaited final of the Batman trilogy, Dark Knight Rises, Graffiti Life have painted a striking 20ft X 9ft batman wall mural depicting good and evil, side by side in the form of Bane and Batman.
You'd have had to be living in a cave (excuse the pun), to escape the hype surrounding the accomplished Christopher Nolan's newest blockbuster. With an all-star cast including Christian Bale as the caped crusader, Thomas Hardy as Bane and Anne Hathaway as Cat Woman, you know this is going to be epic! To try and channel some of our colossal excitement, we put paint to wall with our tribute to Kane's comic book hero and his rival.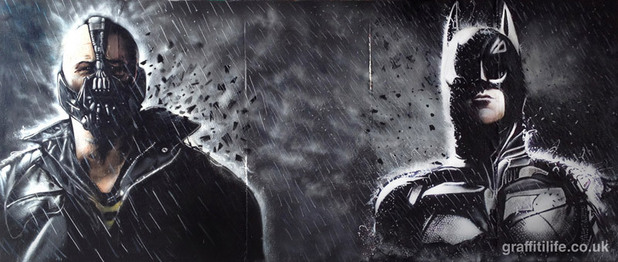 Against a backdrop of dark night sky, we sprayed heavy rain beating down on the two characters' armour, bouncing off to create a misty glow surrounding them like a halo of light, making them stand out stark and prominent against the shadowy background of this batman wall mural. The contrast acts as a gothic testament to Gotham City and the glorification of the light and dark theme which governs all the films.
We painted Batman with the hardened glare of a vigilante and a body suit revealing more muscle than you could shake a stick at; (certainly a far cry from the nylon body suit and pants over tights days). He looks up to the sky in composed grandeur next to arch nemesis Bane, who has not yet been freed from the original comic book strips until now. The super villain/assassin is an escaped convict from a South American prison with abnormal strength having undergone a series of experiments with Venom. The character has caused quite a stir, not only because of Hollywood's latest heart throb that plays him, but also for the parallels that have been drawn to Mitt Romney of the Republican party. The Dark Knight Rises is said to act as a satire of sorts on the state of American government, but we'll leave the politics to the critics…we just couldn't help but get involved with the build up!
We had great fun painting and the public certainly seemed to appreciate our efforts too. Roll on the release! Kapow!
Big thanks to The London Vandal who came along and filmed and edited the batman wall mural coming together.